Ask yourself:
Every business wants to make the absolute most of their online presence; if they're switched on enough to have an online presence then chances are they know the benefits of streamlining it and making it as effective as possible.
But, how do you do that?
There's so much advice floating around out there, it can be incredibly difficult to know where you stand and know what advice to follow.
What is going to be right for you and your business? What should you ignore and what should you implement? There are many questions that come to mind about what works and what doesn't; But don't worry, the answer is here!
Clinics in the Cloud:
Clinics in the Cloud offers something that so many other books don't: Practical solutions from real world experience.
Many sales people try and just confuse you by using long and complicated industry words. They sound like they know what they're talking about; when in reality they don't have a clue.
Not so with Clinics in the Cloud. It's written in plain English so you can easily understand what's being said and you'll soon see the pure logic behind every point being made.
Clinics in the Cloud offers you absolutely everything you need to allow your business to: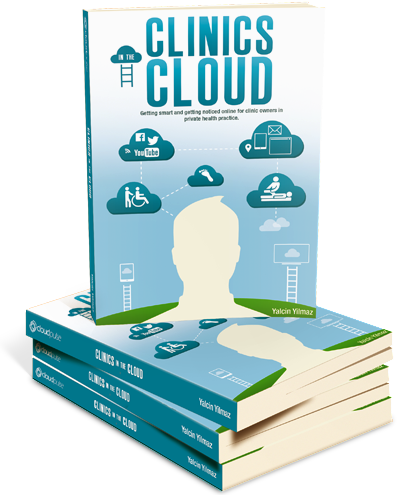 But really, this is only the tip of the iceberg, as Clinics in the Cloud can aid you and your business in so many more ways than there is space here to write.
What readers are saying:
"Easy to read yet very powerful"
Clinics in the Cloud is a great introduction to digital marketing for health practitioners. Yalcin has drawn from his knowledge and experience to clearly lay out a path for novices to begin their digital journey. The information is easy to read yet very powerful in its application. I devoured its contents in half a weekend. The future successful practitioner must utilise technology to its fullest extent and Clinics in the Cloud is a great place to learn how to do so.
Glenn Ruscoe
dot.physio founder
"Best book I have read on the subject"
This would have to be the best book I have read on the subject on online marketing and attraction. Yes it is aimed towards the allied health industry, but every business could benefit from reading this book. What's even better is it's written in plain English and it's easy to read. There's no super techno jargon that leaves you feeling a little dumb; which has been the case with other books I've read.
If you know nothing about online marketing, you need to read this book. Will it make you an expert? No it won't, but it will help demystify online marketing and take away a lot of fear and apprehension you may have. This book is addictive, so be prepared, because you'll find yourself reading it more then once.
Tyson E. Franklin
Podiatrist
"Increased patients by 40%"
Yalcin's great book has helped me complete the puzzle in my Physiotherapy practice. We have great service and practitioners but a year ago we had no online presence. With Yalcin's strategies I now know how to build a great online presence, and am enjoying the time I spend building our clinic brand online. We have increased our new Physiotherapy patients by 40% and massage patients by 100%. Yalcin I would like to thank you for your insights and easily applicable strategies.
Nick Schuster
Physiotherapist
"For the last 5 years we've relied on Yalcin"
Yalcin is a practical professional, easy to talk to and understand. For the last 5 years we've relied on Yalcin to find solutions and be instrumental in growing our business 100% each year.
Rosemary Gaddes
Physiotherapist
"Shows precisely how to implement a plan"
I really enjoyed reading the strategic thinking that guides this information about first building a web presence and then leveraging that presence to communicate and market. The author explains in easy-to-grasp language how to think through choices, and then shows precisely how to implement a plan, down to the nitty gritty of how various platforms, tools and resources work. I feel smarter and empowered to know what to do and when to do it going forward.
Alex Prosper
"Every health professional needs to follow the principles outlined in this book to survive"
As health professionals, we are excellent health professionals… and not always tech savvy business people. With Gen Y now hitting their thirties and rapidly becoming our target market, it is essential for us to have a health practice that is highly visible and highly effective in the online space. Yalcin makes this so much easier for us all, by putting all the info in one place – "Clinics in the Cloud". This book was a great read, and can be read cover to cover or used to reference, and read up on, certain parts of your online presence. Every health professional needs to follow the principles outlined in this book to survive – today and into the future. Thanks!
Karen Finnin
Physiotherapist
"Health business owners read this book!"
Health business owners read this book! Don't get left behind even further – we are in the information era and things are moving faster than ever. Ignorance is costly.
Brad Beer
Physiotherapist
About the author
Yalcin Yilmaz founded PracticePulse in 2008 to help health businesses in private practice to make sense of the changing online landscape, understand and use the tools available to them and thrive in business. This book is the result of research and experience at PracticePulse over the years working with businesses just like yours.
---
Enter your details to get your download
You will receive an email with link to download the first 4 chapters of Clinics in the Cloud book FREE.
You will also receive free useful tips and ideas.
NO SPAM. Unsubscribe any time. We will not share your details with anyone.
---